• Pattern Pack Basics
• Purchasing a PDF Pattern
• Pattern Help
---
Pattern Pack Basics
What is a Pattern Pack?
A pattern pack is a set of pdf files with a crochet pattern and other information. It may include the pattern in multiple sizes (using standard abbreviations), and a symbol diagram. The listing for each pattern will specify exactly what files are in that pattern pack. You don't have to print out every page in the files– print just what you need.
Why Should I Buy a Pattern Pack?
Every pattern has one size available for free on Blankets with Heart. You should buy the pattern pack if
You want to make another size, and you want to know how much yarn you will need and exact instructions for that size.
You want to be able to easily print the pattern.
You want the pattern written with basic abbreviations.
You want a crochet symbol diagram for the pattern.
You want the convenience of having the pattern available, even when you don't have internet access.
You want to support a woman-owned small business.
---
Purchasing a PDF Pattern
How Do I Download My Pattern?
There are 3 ways to find the link to download your pdf pattern file(s).
First, immediately after your purchase, you will see a purchase confirmation on your screen that contains the download link.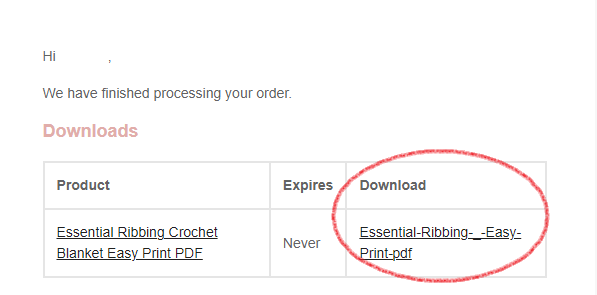 Second, after you complete your purchase, you will receive an email receipt with a link to download your file(s).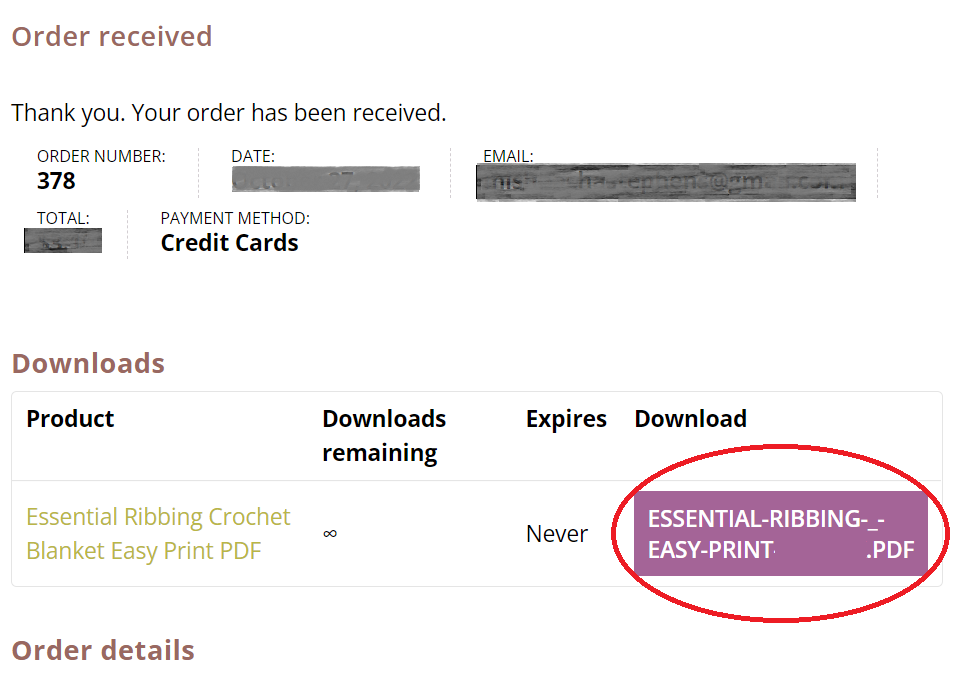 Finally, you can visit My Account to find your previous purchases and download the file. 
I Did Not Receive the Email with My Download Link.
Check your spam folder first. Sometimes, spam filters make mistakes. If you still can't find your email receipt, send us an email at heart@blanketswithheart.com and we will help you out.
---
Pattern Help
I Do Not Understand What One of the Abbreviations Means.
Check the abbreviations list in your pattern for a list of abbreviations used in the pattern.
I'm Having Trouble with the Pattern/I Think I found an Error.
Email us at heart@blanketswithheart.com, and we'll be happy to help you out.
Can I sell Items Made from Your Patterns?
For small scale selling (think craft fair; not Walmart), sure! If you can credit Blankets with Heart for the pattern somewhere on the tag, that would be greatly appreciated. Email us at heart@blanketswithheart.com if you have any other questions, and of course, we'd love to see pics of your finished objects!